Artificial intelligence is becoming a huge driving force, and although the chatbot is just a small part of conversion rate optimization (CRO), it has gotten bigger and bigger over the last few years.
What Are Chatbots?
Chatbots are a service for both the customer and the company that uses them, they are powered by complex rules laid out by an expert and even artificial intelligence, that you can intermingle with via a chat interface. That service could be any number of things and it could live in any major chat product like Facebook, WhatsApp, Text Messages, and can even be live on your website.
For example, Amwell uses its first message to let you know that it is the #1 telehealth service according to JD Power. Right away it builds confidence and inspires you to keep going.
Because Amwell has a bot instead having their customers waiting for a live person, it helps them find what they're looking for by answering a few simple questions. Simple.
Why Should Advertisers Target Messaging Platforms?
First, the user base. Apps like Slack, WhatsApp, Skype, and their competitors have been growing their number of users tremendously over the past five years.
Facebook Messenger alone has more than 1.3 billion monthly users.
Mark Zuckerberg disclosed that Chatbots will be a huge part of Facebook's success over the next TEN YEARS.
Company giants like Amtrak are already using Chatbots to get ROIs of over 800%.
By 2022, 50% of smart companies will spend more on Bots than on mobile apps.
By 2023, the average person will have more chat with Bots than with their significant other!
According to a report by Grand View Research, the global chatbot market is expected to reach nearly $1.25 billion by 2025
51% of consumers would rather connect with a company via live chat than any other mean of contact.
58% of consumers like chatbots for instant answers.
40% of consumers want to see companies using chatbots.
Most consumers believe 'customer service' is going to be the major beneficiary of chatbots.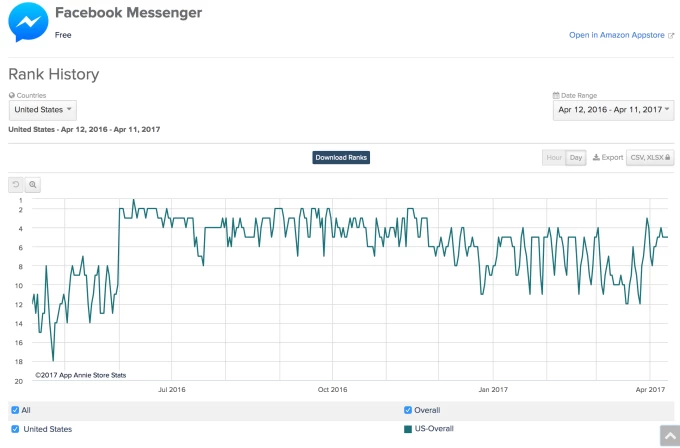 The increase in Facebook Messenger use over one year – image source
With these platforms' growth, demand for virtual chatbots that can automate simple conversations and solve user problems is much higher.

Find more statistics at Statista
How can Chatbots provide an Advantage?
Chatbots are already serving the digital marketplace. When you go to just about any major retail site on the web you are greeted with the opportunity to use a chat session that guides you through a number of processes. 
Here are some examples of chatbots used by Dominos, Bud Light, and Whole Foods
Chatbots save time and money by automating customer support. 62% Of US Consumers Like Using Chatbots To Interact With Businesses. 
Google Trends shows the rise in search interest for "chatbot" over the last 5 years. – image source
It has been forecasted that by 2021, more than 85% of customer interactions will be handled without human-to-human contact. Did you know that "67% of consumers worldwide used a chatbot for customer support in the past year" and that number is growing.
More people are using less apps on their phones these days, which means there are fewer opportunities to reach them with Display ads. If people are spending less time in apps and more time in messenger apps, then it makes sense that chatbots are an obvious choice for continued personalization: 
It looks like messaging apps are getting bulk of the end user's time. – image source
With how much chatbots can do, it's no wonder interest in them is growing exponentially. 
How Do Chatbots Work?
At the center of every chatbot is what is called the Natural Language Processing or NLP. This is the equivalent technology that is behind voice recognition systems used by Apple's Siri, Amazon's Alexa, Microsoft's Cortana and of course Google Assistant.
. 
How chatbots relay information – image source
Chatbots read and evaluate the text given to them by the customer (this process known as "parsing"). The bot then crafts a reply based on a complex set of rules that attempt to understand how to interpret what the customer said and, more significantly, what they mean and/or want. The bot then selects from an assortment of appropriate answers to relay to the customer.
Some bots offer an uncanny conversational understanding, in which it's hard to figure out whether it's an actual person you are speaking to or if it is a. Some bots are much easier to see, like the following bot that is trying its best… 
Yeah, I'm pretty sure this is a bot. – image source
If you want to see a chatbot in action on your website to better understand how they can drive conversions, drop me a line and I'll show you how it looks.
Get Your Proposal | Contact Us
 Should You Care about Chatbots?
Of course you should, if you are a business owner or a marketing professional!
Fun Fact: People are using messenger and texting apps more than they are using social networks. 
Notice that in this graph, WhatsApp and FB Messenger continues to outgrow the rest. – image source
"~90% of our time on mobile is spent on email and messaging platforms. I would love to back teams that build stuff for places where the consumers hang out!"
~Niko Bonatsos
People are spending a lot more time in messaging apps than in social. Messaging apps are no longer the platforms of the future they are the platforms of the now and chatbots are how consumers access all sorts of services.
How Chatbots Affect (CRO) Conversion Rate Optimization
Did you know that people actually open up more when they know they're talking to a bot, which in turn is great for CRO.
Chatbots can also benefit consumers, who are more and more interested in this technology. Below are some of the main factors that inspire people to use chatbots.
Efficiency
Chatbots provide support and help access information quickly and efficiently.  
Entertainment
Chatbots keep people entertained by giving them funny tips, quirky quotes and help kill time when users have nothing else to do. 
Social and Relational Factors
Chatbots spark conversions and improve social experiences. Interacting with bots also helps people with social anxiety to avoid loneliness, and it helps when they talk and don't feel like they are being judged. 
Curiosity
The innovation of chatbots alone spurs curiosity. People want to discover their abilities and to try something they may not have tried before. 
The Value of Chatbots
Cute responses, does not make a bot successful. The most successful chatbots understands what and why a customer want and leads them down the right path to obtain it.
Let's face it, the average person in the United States has an attention span of about 8 seconds. Most people need to get the information they want as soon as possible with as little resistance as possible. One of the best selling points of bots, as I have mentioned, is that they offer immediate access to value while reducing friction.
Consumers don't have to sign in or sign up like they would in an app or on a website — and if the bot can already read your social profile, it can help personalize information to you instantaneously.
BuildmyBots is a full service chatbot builder that serves businesses with bots that create better CRO (Conversion Rate Optimization) with simple or complex lead generating, customer service, FAQ and questionnaire bots.
BuildmyBots.com
info@builmybots.com
302-570-2687